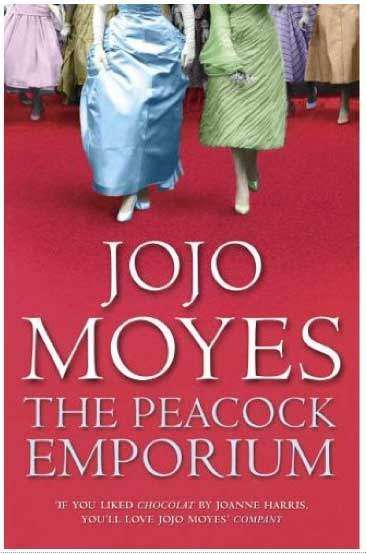 The Peacock Emporium Synopsis :

In the Sixties, Athene Forster is the most glamorous girl of her generation. Nicknamed the Last Deb, she is also beautiful, spoilt and out of control. When she agrees to marry dashing young heir Douglas Fairley-Hulme her parents breathe a sigh of relief. But within two years rumours have begun to circulate about Athene's affair with a young salesman.
Thirty five years on, Suzanna Peacock is struggling with her glamorous mother's legacy. At odds with her father and his second wife, struggling in a stalled marriage, she returns to the place of her birth to find that the ghost of her mother, in differing ways, still haunts them all. The only place she finds comfort is in her shop, The Peacock Emporium, a coffee shop-cum-curio store, decorated in her own image, which provides a haven for other misfits in the town. There she makes perhaps the first real friends of her life, including Alejandro, a male midwife, escaping his own ghosts in Argentina.
But the spectre of Athene and the shop itself combine to set in place a chain of tragic events, forcing Suzanna to confront the feelings she has disguised for so long – and her family, in their varying ways, finally to deal with the events of the past.
And Suzanna discovers the key to her history, and her happiness, may have been in front of her all along.

BOOK REVIEW
I found this title while browsing one of those book clearance tables and it struck me as the diamond amongst the rough. Jojo Moyes was an author I had heard great things about and the title The Peacock Emporium so decadent and lavish it really captured my interest. I also have a soft spot for stories spanning generations and this story certainly ticked that box.
This is not a novel to capture you in the first few pages. But the information provided upfront from the most disparate of settings is crucial to the much more grand story that unfolds. This is a story that builds slowly but the crescendo is very much worth it.
The drama and mystery in Jojo Moyes' novel The Peacock Emporium is as intriguing and alluring as its title.
I loved the wonderfully complex set of characters and web of relationships explored in this novel. Moyes displays a real generosity to her characters and a great eye for detail as an author. She effortlessly provides the back stories of several key characters in this tale without losing the reader's interest or story momentum.
He felt like a rock to her shifting, mercurial self, her separateness bestowing upon him a sense of solidity, of surety. She crept up on him like ivy, clinging and beautiful, a welcome parasitic sprite. He had known from the night he first saw her that she was meant for him; she had prompted an ache, an unexpected sense that something was lacking, that some fundamental part of him was, without him having previously known it, unfulfilled. She had made him feel that, lyrically, fatalistically. He had not known such words were even in his vocabulary.
In addition to Suzanne and her checked family history and mystery as a backdrop, Moyes presents a charming and colourful ensemble cast that frequent the Peacock Emporium. Moyes descriptive passages were so vivid that it was like I was watching a movie rather than reading book.
I found Jojo Moyes novel The Peacock Emporium such a compelling read. I did not want to put it down, nor did I want it to end. In my opinion this is high quality womens fiction.
BOOK RATING: The Story 4.5 /5 ; The Writing 4.5 / 5
BOOK DETAILS: The Peacock Emporium (Amazon); The Peacock Emporium (The Book Depository) 
Genre: Romance, Drama, Chicklit, Historical, Mystery
Author Information: Jojo Moyes is a British novelist, writing full-time since 2002. She has 8 novels published to date. Check out her official website and her great personal blog.
– Read an interview with Women's Weekly where Jojo Moyes discusses her inspiration for The Peacock Emporium
Another reviews of The Peacock Emporium: Sue's Book Reviews
Some other titles by Jojo Moyes: The Last Letter From Your Lover , The Ship of Brides , Foreign Fruit , Silver Bay , Night Music , The Horse Dancer , Sheltering Rain